Get to know us! We are Gijón City Tour
Gijón City Tour is the official sightseeing bus in Gijón/Xixón. It is operated by the union of two of the most prestigious companies in the tourism and transport industry: Julià Travel and Alsa.
These companies, pioneers of the tourism development in Spain, have put all their experience to use for the Gijón City Tour service creating, in the opinion of many experts, what is probably one of the best sightseeing services.
Gijón City Tour offers you a fun and complete sightseeing alternative
At Gijón City Tour we work to make your dream vacation easier. Discover the most emblematic sights of Gijón in a relaxed and entertaining way, without worrying about distances.
As the operators of the official sightseeing bus service, we aim to promote the heritage and the cultural and natural wealth of Gijón. With the Hop On Hop Off service and the audio guide commentaries, our passengers learn, discover curiosities, take great pictures and can get close to the most important monuments in the city.
In this adventure itinerary on board a bus you are the protagonist. We have created a flexible model that lets you personalize the route you want to follow. You can hop on and off at the any stop and discover in depth the different areas connected by the route. Totally at your own pace and depending on your preferences. To make this experience easier, Gijón City Tour also offers you small services that add a great value.
Forget about printing a voucher and use an electronic one, helping to preserve the environment! You can also enjoy free Wi-Fi on board and all the App features.
Members of Gray Line Spain
Gijón City Tour is a member of Gray Line Spain. Gray Line Worldwide is the main international network of travel agencies and tour operators, specialized in visits and tours in the main cities of the world. It is present in more than 700 destinations and in each of them is recognised as a seal of quality, primarly in the North American market.
About City Tour Worldwide
Gijón City Tour is part of the international brand City Tour Worldwide, property of Grupo Julià. With special presence in Spain, City Tour Worldwide is one of the main tour operators of sightseeing buses worldwide. As well as in Gijón, the company operates hop on hop off buses and trains in different cities on various continents.
Do not miss any of news thanks to our blog and social media profiles. Solve any questions you have about the service through the contact us section of our website. Our customer service team will answer all your questions. We hope to see you on board and that you enjoy the tour
New from Grupo Julià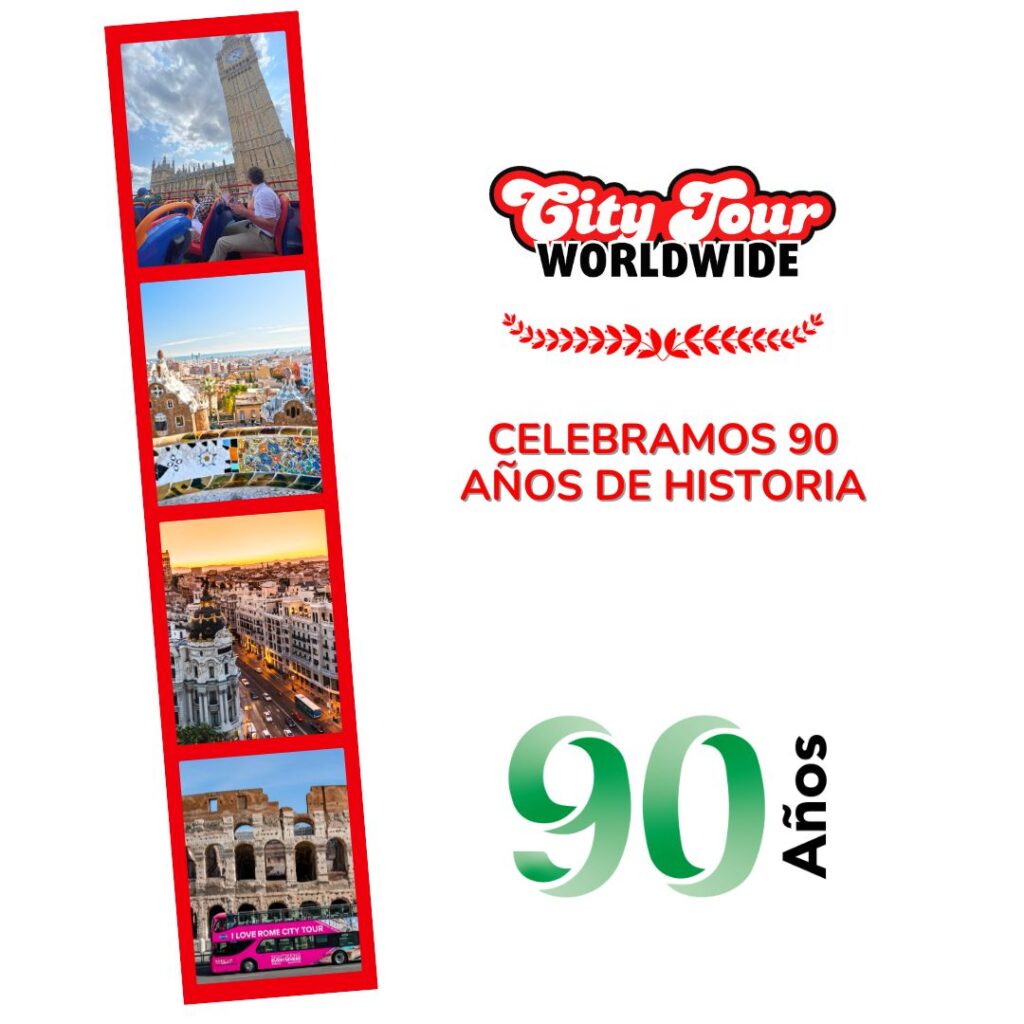 City Tour is proud to be part of Grupo Julià.
In the year we celebrate our 90th anniversary, Grupo Julià continues to lead the way in the travel industry. For nine decades, we have dedicated our commitment to providing unique and memorable experiences to travelers around the world.
On this 90th anniversary, we would like to express our gratitude to all the travelers who have trusted us over the years. We look forward to continuing to be your number one choice for unforgettable experiences in cities around the world – here's to 90 years of history and many more adventures ahead!